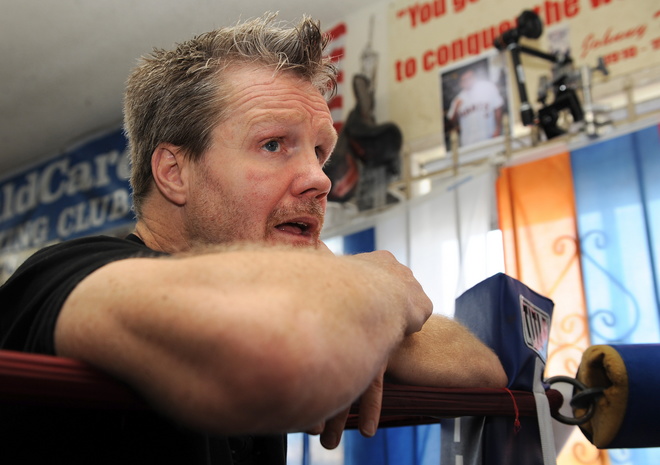 source: Nick Giongco | The Manila Bulletin
Don't be misled by Manny Pacquiao's seeming inability to score knockouts the last couple of years.
Unable to score a stoppage win since 2010, Pacquiao is meeting Tim Bradley on June 9 in Las Vegas in what is being hyped as the return of the Pacquiao of old: Mean, merciless and menacing.
Trainer Freddie Roach told the Bulletin that he swears that Pacquiao took pity on Mexican mauler Antonio Margarito and American Shane Mosley, preventing the Filipino pound-for-pound king from handing them a nasty beating that guys like Oscar De la Hoya, Ricky Hatton and Miguel Cotto sustained earlier.
"I'd like to see Manny knock Bradley out," said Roach.
Roach, who will set up the first phase of training camp in Baguio this weekend, said Pacquiao "carried" the Margarito and Mosley fights when he could have dispatched them with the efficiency of an assassin.
After stopping Cotto in the 12th round in Nov. 2009, Pacquiao seemed content in winning on points as he got past Joshua Clottey, Margarito, Mosley and struggled against Juan Manuel Marquez.
Meanwhile, Bradley told the website fightsaga that he knows Pacquiao inside and out and is excited to get it on with him at the MGM Grand.
"If he wants to bang, you already know I'm gonna box him. If he's gonna lay back, you know I'm gonna go to him. Whatever he wants to do, I'm gonna know from the first round."
Despite his sterling 28-0 win-loss record, Bradley has been tagged as a handpicked foe for Pacquiao, somebody who will make Pacquiao look sensational.
But Bradley has other things in mind.
"I know he's not afraid of my skill set but everyone is going to see on June 9th I bring a lot to the table. I already know what to do, it's in my head already. I've watched all the Manny Pacquiao tapes and am already dialed in."