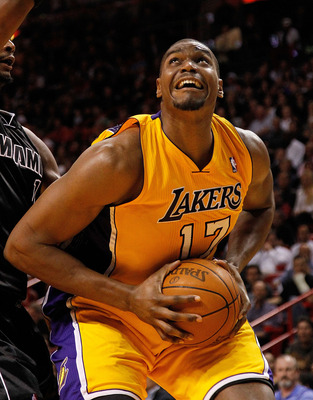 source: Dave McMenamin | ESPNLosAngeles.com
SAN ANTONIO
-- The season-ending back surgery the Orlando Magic's Dwight Howard underwent on Friday means USA Basketball will be without its presumed starting center this summer at the London Olympics. It won't be Andrew Bynum to the rescue in Superman's absence, either.
"Probably not," Bynum said after the Lakers' 121-97 loss to the San Antonio Spurs on Friday when asked if he had any intentions of trying out for the national team. "I got to take care of my legs in the offseason."
When asked if USA Basketball chairman Jerry Colangelo had reached out to Bynum to gauge his interest in joining the player pool that will participate in a July training camp in Las Vegas to choose the final 12-man roster, the 24-year-old replied, "Not yet."
Bynum said he planned to travel overseas for treatment during the summer. He has already undergone multiple knee surgeries in the past and used part of All-Star weekend this year to receive a Synvisc and cortisone injection to maintain the health of his right knee.
"I got some things planned for my knees," Bynum said.
When Bynum was asked if he wanted to rest his body in the offseason, he said, "I need it; I don't want it. I got to do some therapy that I'm going overseas to do, so that will be tough."
USA Basketball likely will turn to the New York Knicks' Tyson Chandler to play center and will also give consideration to Minnesota's Kevin Love and Miami's Chris Bosh to play the position at times.