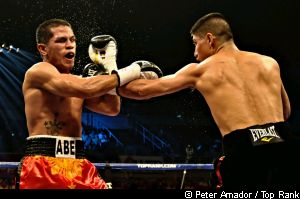 source: Rich Mazon | PhilBoxing.com
San Juan, Puerto Rico
- Once hailed as the next best homegrown talent after Manny Pacquiao, the boxer nicknamed "The Real Deal" has been in a real slide lately. Bernabe "Abe" Concepcion is now relegated as a stepping stone for elite fighters and up and coming champions. Such is the case tonight in a humbling lost to bright title contender, Miguel Angel "Mikey" Garcia.
Concepcion was out boxed and out punched by the undefeated Garcia en route to a 7th round TKO in the fight preceding the main event between Orlando Salido and Juan Manuel Lopez. The taller and longer reaching Garcia was also the more skillful and the harder punching boxer of the two. And after three initial rounds of feeling out his opponent, Garcia went to work in the 4th landing stinging jabs and good combinations on the Virac, Catanduanes native. Concepcion tried to be aggressive but to no avail and often is a victim of Garcia's effective counterpunching. Garcia stunned Concepcion with a left and right cross in the 5th round that pushed back the Filipino fighter.
Garcia, who is being coached by his elder brother Roberto, who is also a coach to Nonito Donaire Jr. and Brandon Rios, upped his ante in the 6th. He cornered Concepcion and unleashed a barrage of shots on him. Concepcion blocked and defended most of it but it is clear that the undefeated Mexican is smelling blood as he aggressively pursued the Filipino throughout the round.
And the big bite came for Garcia in the succeeding round, A straight right from him found its way to the top of Concepcion's head dropping Concepcion in the canvas. And the shark in Garcia went for the kill finishing Concepcion with a flurry of punches. Referee Luis Pabon halted the fight right away after Concepcion was unable to defend himself from the onslaught. Garcia picked his 28th straight win against no loss and an impressive 24 of those coming by knockouts. That also positioned him to be a top challenger for the winner of the main event tonight.
While the future looks bright for Garcia, it does not seem to be for Concepcion. The former bright prospect of Philippine boxing has not only been a journeyman at his young age of 24 but also a losing one in that. He lost three of his last four fights, his lone win last October came from a controversial Split Decision victory against Aaron Garcia in a mostly Filipino crowd in California. He has challenged for the world title twice, coming short on both tries. One by disqualification, the other by a second round TKO to Lopez. He was once trained by Freddie Roach but was dropped by the Hall of Fame coach after a string of defeats. He was once a fighter with tremendous prospects, even impressing Bob Arum at one point. Now, he is just an opponent with a good record for Top Rank's star boxers to carve a victory upon. And that record is getting a lot of red ink lately.
Calls for Concepcion's retirement is unwarranted at this point. It is easy to judge him after this devastating loss. But clearly, a lot is needed from him and of him to make a turn around. The bright spot is that he is only 24 years old, and that he is still years away for being called a "washed up" fighter. He is armed with a strong right, one that knocked Lopez down last year and one that was at times sneaky against Garcia tonight. He is a humble, eager to learn kind of guy which can be useful in his training. But other than that, the room for improvement offers a large space to be filled for Concepcion. His defense needs to improve. His variety of punches needed to grow. His movement around the ring yearns for enhancement. The veteran of 36 fights does not look like that at all last night and in his last couple of fights.
This phrase is often used, but Abe needs to go back to the drawing board. Going back not only in training but on the drawing board of his career as well. And he needs to look at himself, where he has been and what he has become. He needs to look at the people around him and the people guiding his career. If he deems that there is a strong case for change, then he should go for it if there is an option to do it. Will the glitter of dollars be more important to him than a solid, dignified career? Will fighting in a foreign land and losing in the process be the hallmark of his once promising career? Will he continue to be just a stepping stone for all these star boxers? These are questions that come to my mind and ones that I hope he should be asking himself as well.
It is never too late to make a turn around. It is never too late to effect change in an otherwise unproductive path. It is never too late to be the once, promising fighter Abe Concepcion was just a couple of years ago. If he is looking for an example of such comeback, he should take a cue from Orlando Salido just a couple of hours ago. The victorious defending champion has 11 losses and was 30 years old when he won his fight against the unbeaten Lopez last year en route to being a world champion. And at 31, he repeated that again tonight in spectacular fashion. That should be enough to cheer up and motivate Abe Concepcion.