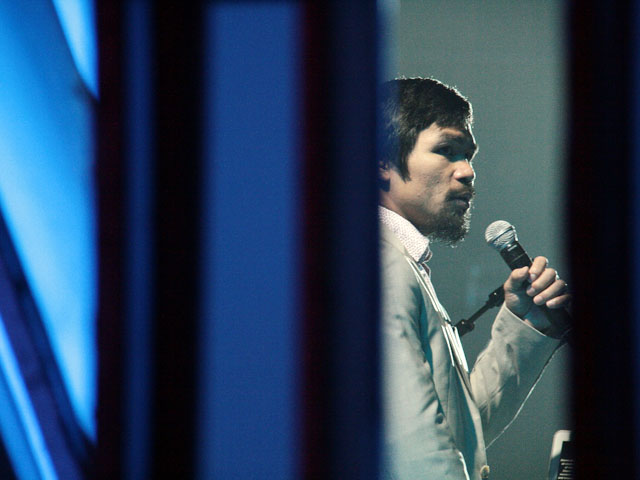 source: Andreo C. Calonzo | GMANews.tv
He walked onto the stage and into the spotlight. He wore a sleek suit and well-polished shoes—the same clothes he wears in Congress as a lawmaker. He took the podium, bowed his head in prayer and clasped his hands—the same hands whose fists have knocked down countless foes inside the boxing ring.
On this day he proclaimed himself a new man.
Months before his fight against American Timothy Bradley, Filipino boxing superstar Manny Pacquiao is focused on another foe—"the evil spirit." He led a large Bible study session on Tuesday inside the same studio where he shoots his television show to explain to people the importance of prayer and meditation.
"May purpose tayo dito sa mundo na kailangan natin sundin… When you read the Bible, you will be prosperous and successful. Kailangan natin mag-meditate on God's Words palagi," he said to a crowd of GMA employees.
With the same energy he exudes inside the boxing ring, Pacquiao shared how "sheer muscle and willpower alone don't make anything happen."
He effortlessly recited Bible verses from memory, sang worship songs with his eyes closed, and enjoined the crowd to say "Amen" after sharing Biblical passages.
His past mistakes
At a bible study held at GMA Network complex Tuesday, boxing icon Manny Pacquiao proclaimed himself a new man. Roehl Niño Bautista, GMA News
During the Bible sharing, the boxing champ also admitted to past mistakes. He shared how he enjoyed gambling in casinos, drinking alcohol in bars and having affairs. He said, however, that these are vices of the past, thanks to his discovery of God's Words.
"The old Manny Pacquiao is gone. The new has come. Alam niyo naman, nagsusugal ako noon. Nag-iinom ako. 'Yung mga pambabae. 'Yung mga careless words, nagmumura ako. Nakita niyo naman kung ano ang pagbabago. God knows that I have changed," he said.
He did not mention the latest controversy in his career, his tussle with the BIR over a tax investigation into his earnings.
"Read the Bible"
Pacquiao said that he wants to use his popularity to inspire more people to read the Bible and change their lives for the better.
"Ine-encourage ko ang lahat na magbasa ng Bibliya. Doon sa Bibliya nalaman ko ang lahat… You have to read the Bible to know the truth," he said.
Pacquiao likened himself to American athletes Jeremy Lin and Tim Tebow, using their popularity to spread the word of God.
'Example of change'
GMA Network chairman and chief executive officer Felipe Gozon, who attended the Bible study, said he was convinced that Pacquiao has already changed for the better.
"Kaya ako pumunta sa Bible study na ito para makumbinsi ako na tunay ang pagbabago ni Manny Pacquiao… Maganda ang mga sinasabi ni Manny. Naiintindihan niya ang mga sinasabi niya," Gozon said in a speech during the gathering.
The GMA executive also said he was impressed at how Pacquiao can "reduce into simple terms" Biblical teachings so that they can be appreciated by an audience.
He also thanked the Filipino boxing champ for being an "example of change."
"Nagpapasalamat ako kay Manny dahil nagiging example siya ng binabago ng Panginoon. Walang makakaisip na si Manny ang tatawagin," he said.
Louie Ignacio, who directs Pacquiao's weekly show "Manny Many Prizes," for his part, said he was moved to tears while listening to the Filipino boxer preach Bible teachings.
"Alam mong nasa puso niya ang mga sinasabi niya. Alam mong inaral niya at ina-apply niya iyon. Kumbinsido ako na nagbago na ang ating Ninong Manny," he said. — RSJ/KG/VS/HS, GMA News