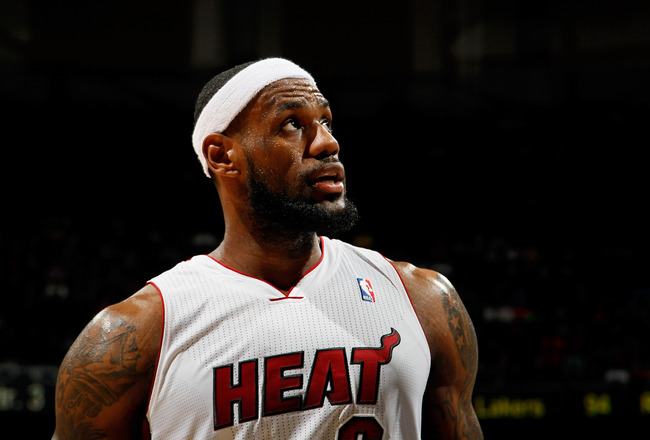 source: Michael Wallace | ESPN.com
MIAMI
-- LeBron James plans to be available for Friday's game against Detroit despite dealing with lingering pain and stiffness from two hard falls he took during the Miami Heat's previous game.
James injured his right elbow and neck in separate collisions with Phoenix Suns players in the Heat's 99-95 victory on Tuesday at AmericanAirlines Arena. He came back to finish that game, received treatment throughout the day Wednesday and was back on the court for the final stages of Thursday's light practice before the Heat departed for this weekend's three-game trip.
Asked Thursday where he still felt the most pain, James said: "Everywhere."
James landed awkwardly on the right side of his body in the first half Tuesday when he was fouled going to the basket. He played the rest of the game with numbness in his right elbow, an injury similar to one he dealt with two years ago in his last playoff run with the Cleveland Cavaliers.
Later in the fourth quarter of Tuesday's game, James suffered what the team called a "stinger" when he collided with Grant Hill and remained on the ground for several moments before he was helped to his feet by Heat teammates. After the game, James said he was not treated for concussion symptoms.
Heat coach Erik Spoelstra says center Joel Anthony is expected to play Friday. Anthony was held out Tuesday because of a sprained left ankle.
On Thursday, Spoelstra said there were no further concerns from the team's medical staff and that he expected James to play Friday, barring any setbacks.
"I'll be ready,"James said. "My neck is still a little sore. I'll continue to work on it and continue to have treatment. I thank the man above I was able to get up. It's a little better today than it was yesterday."
The Heat, however, will be without James' backup at small forward for at least a few more games. Swingman Mike Miller did not travel with the team Thursday to Detroit and also will miss games Sunday against Oklahoma City and Monday at Indiana as he continues to recover from a sprained ankle. Miller has been sidelined since the Heat's March 10 win against Indiana.
Despite the injury concerns, Spoelstra said Thursday that his team is finally complete after filling its 15th and final roster spot with the addition of free-agent center Ronny Turiaf, who was signed Wednesday night after he was released by Denver earlier this week.
Spoelstra would not rule out playing Turiaf at some point on the trip as the Heat look to bolster their rebounding and interior defense for the playoffs.
"We're moving forward and, like a lot of teams around the league, we feel whole with the group that we have," Spoelstra said. "Now, there's clarity with our group going forward."