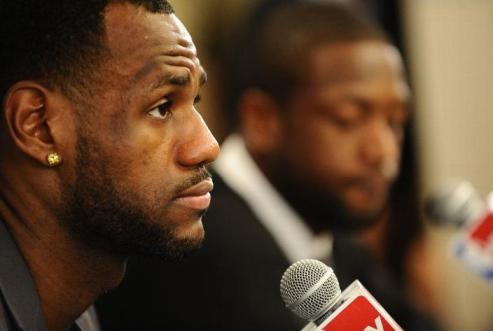 source: Associated Press
CORAL GABLES, Fla.
-- LeBron James plans to play Friday night when Miami visits Detroit, even though the Heat star is continuing to deal with the effects of a scary collision with Phoenix's Grant Hill.
James told The Associated Press he was still recovering on Wednesday, one day after crashing into Hill in the final seconds of Miami's win over the Suns. James was on defense and sprinting when he apparently did not see Hill trying to set a screen. Both players tumbled to the court, and James was down for nearly 2 minutes before being helped to his feet.
"I feel good," James said. "I've been better. I'll be better by Friday. But I've been better."
James was appearing Wednesday night at a Miami Heat Charitable Fund event attended by all 15 players, executives including owner Micky Arison, team president Pat Riley, CEO Nick Arison, head coach Erik Spoelstra and some family members. James arrived with fiancee Savannah Brinson, appearing for a few minutes on the white carpet outside the event and spoke with reporters about everything from the NCAA tournament to Tim Tebow's future.
"It's a fun night," James said.
James took two hard falls in Tuesday's win over Phoenix, one in the first quarter where he banged his right elbow, then the more spectacular of the two in the final seconds of the fourth.
After running into Hill and staying down for a few seconds, James started to get up, got to one knee, then rolled over onto his back and grabbed his head with both hands. A timeout was called, and James was surrounded by teammates and coaches before eventually making his way to the bench.
Hill, who said he was relieved the collision wasn't worse, was in the lineup Wednesday when Phoenix visited Orlando.
Heat guard Dwyane Wade said he couldn't recall seeing James stay down for so long after getting shaken up on the court.
"Not that long," Wade said. "When he was still down, I knew it was something. It was a good hit. But he's fine. He's good. He wasn't out of it. He just got hit pretty good."
James said he intends to practice Thursday.