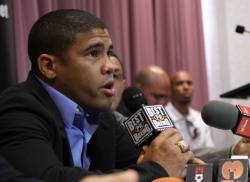 source: Carlos Costa | PhilBoxing.com
Puerto Rican star Juan Manuel "Juanma" López, a former 2-time world champion, appeared today before the media at the Teatro Corporativo del Museo del Deporte de Puerto Rico in Guaynabo to apologize to referee Roberto Ramirez Sr., for the remarks Juanma made minutes after his dramatic KO defeat to Mexican Orlando Salido at the Roberto Clemente Stadium on March 10.
"I want to apologize and ask forgiveness to referee Roberto Ramirez for the things I said after the fight with Salido. I'm embarrassed about what I said, because I said things that I do not even remember now," said Lopez.
The popular boricua fighter was accompanied by Peter Rivera, vice president of PR Best Boxing Promotions, Orlando Piñero his manager, his coach Alex Caraballo, his trainer Alexander Greaux and his counsel Atty. Pedro Hernandez.
Juanma Lopez (31-2, 28 KOs) was dropped and overpowered by Orlando Salido (38-11-2, 26KOs) in an intense showdown that was refereed by veteran Puerto Rico third man Roberto Ramirez Sr.
After realizing the poor conditions that Juanma was going through after the 10th round know down, Ramirez gave Juanma the protection count and correctly stopped the intense combat.
The halt to actions occurred at an appropriate moment as Juanma would have been unable to defend himself a very power powerful tormentor.
However, minutes later, López made strong statements lambasting Ramirez and his referee son Roberto Ramirez Jr., accusing them of being "gamblers," all before a live worldwide television audience.
"I saw the fight afterwards and was really hurt and Sr. Ramirez stopped it. So I apologize and ask forgiveness to the people of Puerto Rico for what happened," added López.
As of facing a suspension from the Comisión de Boxeo Profesional de Puerto Rico, Lopez said that if the suspension is for one (1) year, that would be to advance the end of his boxing career. "One year is too long without a fight. This is my job, boxing is my work."
Meanwhile, referee Roberto Ramirez was unable to attend the press conference due to prior commitments, but Lopez said that at some point he will apologize to Ramirez face to face.
Watch the dramatic round 10, in which Juanma López was knocked out by Salido, Ramirez stoppage and Juama's accusations against Ramirez in this link:
www.youtube.com/watch?v=kybysefpoDw