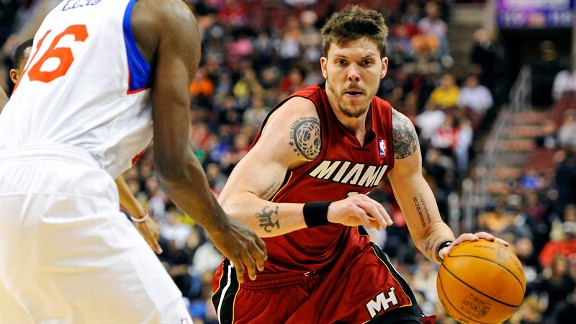 source: Michael Wallace | ESPN.com
MIAMI
-- Injured Heat forward Mike Miller missed Monday's practice to visit a doctor for more treatment on his sprained left ankle and is likely to sit out at least the first two games of Miami's upcoming three-game road trip.
Miller won't travel with the team on Monday to Orlando to start the trip.
Miller, the NBA's leading 3-point shooter, sustained the injury in the first half of Saturday's home overtime victory against the Indiana Pacers when he landed awkwardly. He immediately hopped off the court and directly to the locker room for an X-ray.
Heat coach Erik Spoelstra said Miller did not initially get an MRI because the team was certain it was a sprain without any further structural damage.
While Miller was meeting with a doctor Monday morning, the Heat were wrapping up practice in preparation for Tuesday's game against the Orlando Magic. Miami then travels to Chicago to play the Bulls on Wednesday before ending the trip on Friday against Philadelphia.
"It'll be day to day for now, until we can see how he responds the next two or three days," Spoelstra said of Miller, a key reserve who is shooting 49.3 percent from beyond the arc. "He says he's coming back this weekend. But we'll see. He has come back from bad ankle sprains that would hold people out a lot longer. So I don't want to discount him."
Spoelstra said Miller was still dealing with swelling in the ankle, but that there's "nothing more he could do to the ankle, unless he broke it."
Heat guard Dwyane Wade had a similar sprain and missed two weeks earlier this season, but he was also dealing with another nagging foot injury.
The Heat will adjust to Miller's absence by going to a bigger rotation off the bench, with second-year reserve center Dexter Pittman expected to get more playing time on Tuesday against Dwight Howard.
Spoelstra said it could also mean fewer minutes at power forward for LeBron James. Miller had been James' primary backup at small forward in recent weeks as the Heat shored up a nine-man rotation. Miami could also turn to seldom-used sharpshooter James Jones.
"We had a good stretch when we had everybody, so we were lucky," Wade said. "Now, we just have to have guys step up. We have a very good shooter in James Jones waiting in the wings for another opportunity. We just want Mike to get healthy. When he comes back, he's going to get right back into what we're doing, so he's just got to get healthy."
Miller has been plagued by injuries for most of his two seasons with the Heat, although he was in the midst of his longest stretch of activity before Saturday's setback. Through 28 games this season, the 11-year veteran has averaged 5.6 points and 3.1 rebounds in 18.1 minutes.
The Heat will also be without assistant coach Bob McAdoo for at least a few games as he recovers from treatment for a blood clot in his leg. McAdoo, a Hall of Fame player, missed Saturday's game after the clot was discovered during a recent doctor's visit.
Spoelstra said McAdoo is recovering well and has been in frequent contact with the team but hasn't yet been cleared to travel.