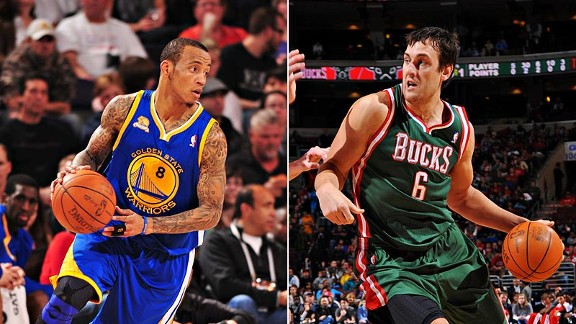 source: ESPN.com

The Andrew Bogut era in Milwaukee is over.
The Milwaukee Bucks have traded Bogut and forward Stephen Jackson to the Golden State Warriors for Monta Ellis, Ekpe Udoh and Kwame Brown, sources confirmed to ESPN.com.
Bogut was drafted first overall by Milwaukee in the 2005 draft and has averaged 12.7 points and 9.3 rebounds over his now seven-year career.
Bogut's durability has been called into question as the 7-foot Australian has not played since injuring his left ankle in a game Jan. 25.
In return, the Bucks welcome the instant offense that Ellis provides to pair with star point guard Brandon Jennings.
Ellis, a veteran also in his seventh year, has career averages of 19.6 points and 4.4 assists and is already used to sharing the backcourt with a dynamic player, having worked alongside Stephen Curry since the 2009 season.
The Warriors are also bringing back a fan favorite in landing Jackson. The volatile veteran was a key player on the Golden State squad that knocked out the top-seeded Dallas Mavericks in the first round of the 2007 playoffs.
In addition to Ellis, the Bucks get Udoh (5.5 PPG, 3.3 RPG in 38 games this season) and journeyman center, and former No. 1 overall draft pick, Brown (6.3, 6.4 in nine games).