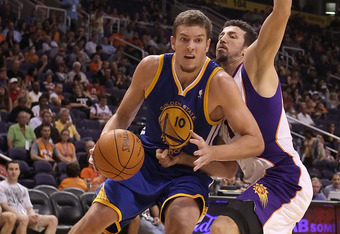 source: gmanetwork.com
David Lee scored 28 points and the Golden State Warriors bucked the Phoenix Suns' 29 assists to stay ahead of their Pacific Division rivals with a 102-96 win, Monday (Tuesday, PHL time) at the ORACLE Arena in Oakland.
Rallying back after a 27-20 first quarter deficit, the Warriors shut the Suns down over a two and a half minute stretch in the third period, scoring 10 points in that same span to take the lead, 70-69, 1:43 left in the third.
In response, Michael Redd drew a foul while attempting a three-pointer from Warriors point guard Stephen Curry and knocked in the three free points. Combined with another charity by Marcin Gortat, it was enough to temporarily return the lead to the Suns.
But with a little more than half a minute remaining in the quarter, Monta Ellis scored four points to give Golden State the lead for good, making it a 76-73 game with 12 minutes left to play.
Ten fourth quarter points by Markieff Morris gave Phoenix a fighting chance, even getting them to within a point, 79-78, two and a half minutes into the period. Late in the quarter though, the Warriors' defense made a comeback, allowing just a single field goal in the game's final 2:15, a put-back by Gortat off a Grant Hill miss that tagged it at 98-93 with 12 seconds left.
David Lee led all scorers with a double-double of 28 points and 12 rebounds, plus three assists, a steal and a block. Monta Ellis added 18 markers and seven boards, while the Warriors reserves outdid their Phoenix counterparts, 38 to 25.
Marcin Gortat also had a double-double, 25 points, 12 rebounds, while his frontcourt partner Channing Frye scattered 18 points, though he was just 1 of 8 from downtown.
Steve Nash added just seven points but had double the number of assists in the loss.
The win was the Warriors' third straight, putting them at 11-14, a half-game ahead of the Suns and their 12-16 record.