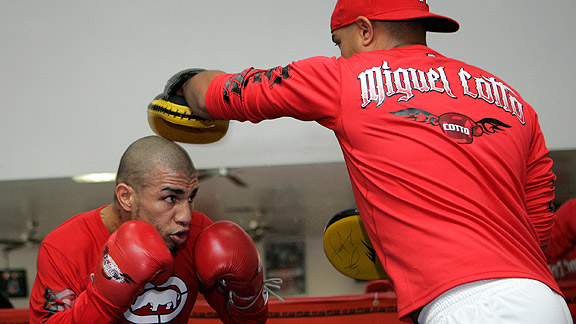 source: ABS-CBNnews.com
MANILA, Philippines
– Hall-of-Fame trainer Freddie Roach is expecting Puerto Rican boxer Miguel Cotto to put on a strong performance against undefeated boxer Floyd Mayweather Jr. when they fight on May 5.
Cotto, the reigning WBA junior middleweight champion, was being pursued both by Mayweather and Filipino boxing icon Manny "Pacman" Pacquiao.
Pacquiao wanted to fight Cotto at the welterweight limit of 147-pounds, however, and Cotto refused to fight at a weight below 150-pounds. The Puerto Rican boxer ended up choosing to fight Mayweather at the junior middleweight limit.
Roach told Boxing Scene that even though Cotto lost to Pacquiao when they met in 2009, the results may differ this time because Pacquiao and Mayweather are two very different fighters.
"Floyd sometimes averages 15 punches per round. How can you beat someone like Cotto, who is a strong puncher and throws so many punches?" Roach said.
"When Cotto catches you on the ropes, that's where he does his best work. And Mayweather likes to lean against the ropes to counter. In that scenario, Cotto could succeed," he added.
Roach said that it will also be a stylistic match-up, with the "good technical boxer fighting with a counter-puncher."
"Mayweather is strong physically, but I think Cotto is a bit stronger. Mayweather is definitely much faster, as was Pacquiao," he added, but noted that Cotto has to be careful about Mayweather's counter-punching.
Roach said that it will be up to Cotto's new trainer, Pedro Diaz, to put together a game plan that will be effective against Mayweather.
"I think his new coach will know how to fight him, because he is Cuban and that is the style of almost all Cuban fighters (counter-punching)," Roach said. "With a good strategy, Cotto will do a very good job."