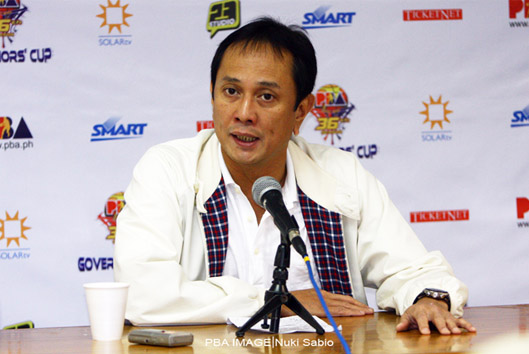 source: Nelson Beltran | The Philippine Star
MANILA, Philippines
- PBA commissioner Chito Salud urged yesterday the league board of governors to discuss the speculations with regards the status of the Coca-Cola Bottlers franchise openly and with complete transparency for the best interest of the fans.
The PBA board discussed the "Coca-Cola issue" in an emergency meeting tomorrow morning at the PBA office in Libis, Quezon City.
At the moment, Salud, however, stressed that Coca-Cola remains a member of good standing entitled to all rights and obligations attendant to a regular PBA member.
But the league chief deferred a decision on the trade agreement reached by Powerade (Coca-Cola) and Petron Blaze involving Marcio Lassiter, Noy Baclao and Rey Guavarra.
Some teams want Salud to freeze Powerade players from any movement while speculations on the team's status have yet to be resolved.
Reports said Coca-Cola and San Miguel Corp. have reached an agreement for the resale of the Coke franchise to the SMC Group.
"Any and all sales, transfers or assignments of team franchises will be valid only upon the approval of two-thirds of the 10 member teams. Formal notice must be sent to the office of the commissioner of any intention to sell by the transferor team. Short of these basic requisites, Coca-Cola remains a member of good standing," said Salud in a text message.
"I look forward to our board meeting on Friday where these speculations can be discussed," added Salud, who's currently in Japan.
Powerade governor JB Baylon sent words he'll try to catch the meeting. He's now in Thailand.
Meanwhile, PBA stars agreed the performance of each team in the coming PBA Commissioner's Cup will depend largely on the showing of its import.
"It's hard to say who'll be the top contenders. It will really depend a lot on the imports," said Ginebra top gun Mark Caguioa.
Powerade's Gary David, Alaska's LA Tenorio, Meralco's Mac Cardona and Air21's Renren Ritualo concurred with the opinion of Caguioa.
As far as his team is concerned, Caguioa said they're still working to develop in chemistry with all the new players they've got.
Cardona expressed confidence they can improve on their sixth place finish in the Philippine Cup.
"We're playing well in practice. I think we can go places," said Cardona during the pre-tournament press conference presented by AKTV at the Gateway Suites in Cubao, Quezon City yesterday.
David takes in stride the possible exit of Lassiter from Powerade.
"I can't do anything about it since I'm just a player. I'll just take care of things in my control, and it's the game," said David.
Tenorio said they've set aside the triangle and they'll now start to play the own system of coach Joel Banal.
For Ritualo, Air21, after its last-place finish in the Philippine Cup, has nowhere to go but up.