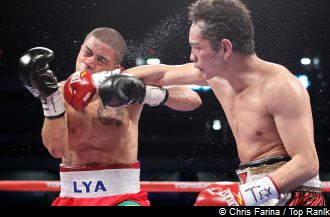 source: Recah Trinidad | PhilBoxing.com
THERE should be a double celebration coupled by a bigger welcome for Nonito Donaire, who captured his fourth world boxing crown in Texas on Sunday.
The all-revealing triumph over boastful Wilfredo Vasquez Jr. of Puerto Rico may not rank as Donaire's best win to date.
In fact, Donaire had scored more sensational triumphs, including the twin stoppages against Vic Darchinyan and Fernando Montiel, both voted as Knockout of the Year. The crispy conquest scored by Donaire on Sunday, although tainted by periodic clowning, was however richer in significance.
It established him as the strongest, most solid candidate to succeed Manny Pacquiao, in the process erasing doubts over his grit and durability.
The bout took all of 12 long rounds but, other than through that 9th round knockdown, the victory was punctuated by a game-long display of brilliance and bravery.
The win, by the way, also reverberated thousands of miles off Alamodome, all the way to Puerto Rico, from where Vasquez's wife posted a message on social network "saying Donaire was a coward and referring to his country as 'stupid' Philippnes."
The morning after, there was a startling picture of Vasquez--very dumb, eyes closed- - after sucking a Donaire left straight to the chin. The scene was hysterically comic it appeared as though Vasquez was trying to gnaw at Donaire's mighty glove.
Make it a political statement or not, an apt caption should read: "Who's stupid punk?"
There were other radiant rays, as Donaire also helped assuage a national hurt caused by the death of the young, undefeated Karlo Maquinto, who died after lapsing into a coma at the end of a rugged drawn fight in Caloocan the other Saturday.
Donaire's big triumph, let's hope, would open the eyes of concerned officials to provide all the possible safeguards, including competent technicians and experts, during boxing bouts.
This may not count as a radiant revelation, but didn't Donaire's dominant victory in the process also expose absurd, if not criminal, areas in prizefighting?
The score submitted by a third dissenting judge, Ruben Garcia, who picked the badly busted Vazquez winner (115-112), should also move boxing authorities to strictly ensure the assignment of competent and honest judges in the future.
Garcia was a blasphemy to the sport.
Going back to Donaire, there actually were great doubts about his grit and durability, no thanks to his technically sound but otherwise overcautious fighting stance.
There were allegations from sources close to the Donaire family that Nonito had often refused to be caught in extended toe-to-toe combat because of a feeble torso.
"Hikain (asthmatic)," the source said, allegedly quoting a Donaire relative.
There were fears he could not take a barrage to the body.
The second half of the fight, mainly the final round, when Donaire, cornered, gallantly and competently stood his ground, did not only erase all doubts.
It resulted in the boxing world nodding and accepting that Donaire, with his well-rounded gifts, is headed for all-time greatness.
In that closing round, he repeatedly beat Vasquez to the punch despite being pinned against the ropes.
More than the 9th round, this should count as the defining moment in Donaire's big triumph.
Unfortunately, it also bared that even objective reporters at ringside could go blind, as evidenced by this dispatch which said "Vasquez also took the 12th round as he tried to nail Donaire with a knockout blow—the one thing he needed to turn things around." The television eye showed it was Vasquez, very much on the receiving end, who could've been stopped based on the punches he had to survive.