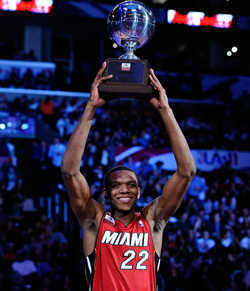 source: Agence France-Presse
NEW YORK
— Miami Heat sharpshooter James Jones will defend his title in the NBA All-Star Game Three-Pointer Contest against five rivals, including teammate Mario Chalmers, the league announced on Wednesday.
The event will be staged on February 25 on the eve of the NBA All-Star Game at Orlando, Florida.
The Three-Pointer field also includes Orlando's Ryan Anderson, Atlanta's Joe Johnson, Minnesota's Kevin Love and New Jersey's Anthony Morrow.
Jones claimed the crown last year, beating a field that included 2010 champion Paul Pierce and his Boston Celtics' teammate Ray Allen, the 2001 winner who is the all-time NBA leader in 3-point baskets.
Jones hopes to join back-to-back Three-Point Contest winners Mark Price, Peja Stojakovic, Jeff Hornacek and Jason Kapono, one shy of the record three wins in a row achieved by Larry Bird and Craig Hodges.
Chalmers is the most accurate 3-point shooter this season among those in the contest at 46.3 percent followed by Anderson at 42.1 percent and Morrow at 42.0.
Morrow has the best career regular-season 3-point average of any of the shooters in the contest at 44.3 percent with Jones second at 40.2 percent.