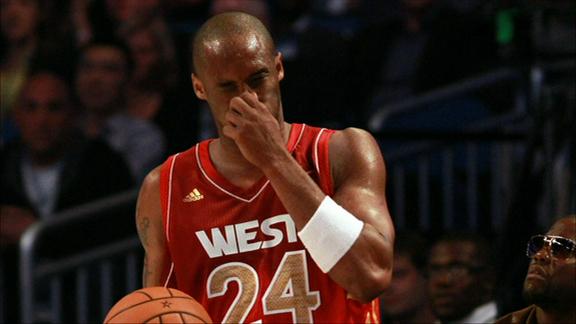 source: Dave McMenamin | ESPNLosAngeles.com
EL SEGUNDO, Calif.
-- Los Angeles Lakers guard Kobe Bryant did not attend the team's first practice after the All-Star break on Tuesday and his status for Wednesday's game against the Minnesota Timberwolves is "unknown at this time," according to a team spokesman.
Bryant visited Dr. John Rehm, an ear, nose and throat specialist, on Tuesday morning where his nasal fracture was confirmed. Bryant was experiencing other symptoms related to the nose injury that occurred in the third quarter of the NBA All-Star Game Sunday when Miami Heat guard Dwyane Wade fouled Bryant across the face, and the 16-year veteran was sent to a neurologist to undergo an MRI following his appointment with Dr. Rehm.
Wade said Tuesday that he sent a message of apology to Bryant.
"It's all I can do," Wade said of the message to Kobe. "He knows it's no ill intent of me to do that to him. Talk about me for taking the foul, but I never wanted that kind of outcome."
The Heat are set to take on the Lakers on Sunday, but Wade said the foul won't change his preparation for it.
"It adds to the storyline, but it won't change my approach to the game," Wade said. "From the standpoint of coverage and media attention? Yeah, it makes it interesting."
Wade's star teammate LeBron James agreed that the foul would add some extra drama to Sunday's game, but he didn't expect Bryant to feed of it.
"I think it's extra," James said. "D-Wade didn't at all go for a hard foul, he accidently hit him in the nose. Kobe doesn't need extra motivation. He motivates himself. He's always prepared to play, especially when we go against him."
Dave McMenamin covers the Lakers for ESPNLosAngeles.com. Information from ESPN.com's Tom Haberstroh was used in this report.