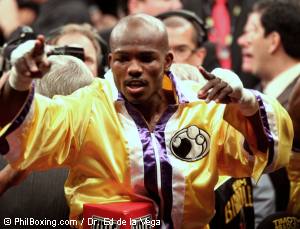 source: Recah Trinidad | PhilBoxing.com
HIS chances, based on respective credentials, are doubtful so the first to thing to ask about Tim Bradley is if he could at least come to the fight fully armed.
It's a firefight he'll be up against Manny Pacquiao so has Bradley got a bomb?
If not a bomb, does he have anything concealed?
Trainer Freddie Roach could not point to any particular weapon but at the same time claimed Bradley could pose a problem to Pacquiao.
Roach said Bradley could also go wild.
"He's dirty, uses his head, elbows and so forth," warned Roach.
If that's all he has got, then it would be a sorry mismatch.
Pacquiao loves to feast on flat-footed fiends.
"Bradley's physical," Roach explained.
For the record, Bradley is 28-0 with 12 KOs.
But if he could not bring anything bigger and better to the table other than his silly head, how do they hope to sell the fight?
Is the Pacquiao-Bradley bout headed for the slaughter house?
"I was over at MGM Grand last year when Bradley fought the old and faded Joel Casamayor," said Col. Pat Pinol of Kidapawan, North Cotabato. "If and when he fights Manny, he will suffer the same fate as Ricky Hatton."
Pinol, graduate of the Royal London Police Academy who had been wounded defending Cory Aquino against coup plotters, believes it will be a picnic for Pacquiao, given "Bradley's swarming, mindless style."
Kakainin siya ni Manny ng buhay (Manny will eat him live)," the retired police officer said.
So does anybody out there have an idea who Tim Bradley really is?
What business has he got challenging Pacquiao?
If indeed dirty, is he at least a distant cousin of the immortal Sandy Saddler, the sharp and sleazy pug infamously tagged as the Pike-like Featherweight?
"It's an interesting fight stylistically—but also one that is potentially hazardous," noted Hans Olson of Boxing Insider.
He added: "Bradley is notorious in boxing as not only being one of the best 140-pound fighters in the world…but also as one whose greatest asset is his noggin. The guy's head is a problem, at times resembling a bull more-so than a boxer."
But it can't be said he's not a terrific boxer.
"He most certainly is, although universally criticized for calling out—and then fleeing—from a fight with Amir Khan last year," Olson added.
Bradley owns victories—"impressive if not truly exciting"--over Lamont Peterson and Devon Alexander both of whom were undefeated when Bradley faced them.
Bradley may be comfortable at 147 lbs., the same scribe noted, who asked if he would have the power to hurt or deck Paquiao "when he didn't have bludgeoning power at 140 lbs."
Don't you give up on the guy yet.
Top Rank running dog Michael Koncz says Bradley is young, undefeated, no pushover.
He may sound like he's trying to sell the London Bridge.
But wait until his boss Bob Arum digs in.
In a day or two, Bradley should start looming as dangerous, sharp and fearless as a mature, raging miura bull.