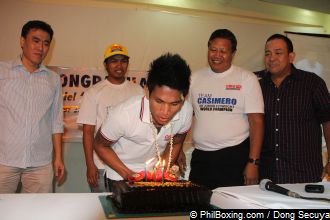 source: Rene Bonsubre, Jr. | PhilBoxing.com
Cebu City
– Sportswriters, photographers and television cameramen greeted Team Casimero when they arrived at the Mactan International Airport. Just a few feet away were Casimero's stablemates carrying a banner congratulating the newly crowned champion for his gallant effort in Argentina.
Foreign nationals gave the media frenzy a curious glance as they passed through the exit doors. The trio looked tired but relieved to see familiar and friendly faces. Three days ago, they had to endure kicks, punches and projectiles from a mob unwilling to accept the 10th round TKO loss of hometown boy Luis Alberto Lazarte.
"There were Argentinians who helped us," Promoter Sammy Gello-ani emphasized, "Not all of them were mauling us. There were those who helped us to go towards the locker room, Oswaldo Prado helped Casimero, who he saw hide under the ring. There were those who helped us go back to our hotel."
Top photo: Johnriel Casimero (C) blows the candles in celebration of his 22nd birthday yesterday while (L-R) Omega Gym / IPI president Jun Pe Castillo, trainer Pingping Tepora, Promoter Sammy Gello-ani and IPI executive Tata de la Merced looks on.
Casimero speaks to the media about his ordeal in Mar de Plata, Argentina.
Casimero told mediamen that he was lucky that he slipped and fell out of the ring while he was being attacked. "I was being stepped on and kicked but I managed to crawl under the ring."
Casimero also had to fight back the tears when asked about the recent death of his brother. Gello-ani said that he did not even know that Casimero's brother died until they were already in Argentina. Trainer Pingping Tepora was all smiles but sported a gash on his chin. He had vivid memories of flying cups and bottles aimed at his head and took his share of blows.
A motorcade took them around the cities of Lapu-lapu, Mandaue and Cebu. The parade ended at the Baseline Restaurant for a well-attended press conference.
They were once again requested to retell their ordeal. "I was worried where Johnriel was, but I was told that he was safe and hiding under the ring." Gello-ani said. "The referee and ring officials were assaulted also, My friend Sean Gibbons was hurt."
Casimero is due for a defense in June and Gello-ani said it will not necessarily be against Solis. "The initial negotiations were for an interim title. Then it was elevated to a regular world title. But I got word that Solis, who was injured, will still be recognized as a champion. Well, if Casimero's title is interim or a regular title, we will be ready for Solis. He has until October to fight or Casimero will be the regular champion. I don't believe Solis is ready to fight. We have the option to defend this belt in June, not necessarily against Solis. We plan to defend this belt here in the Philippines."
The presscon was also attended by James Osorio, Jun Pe Castillo and Tito dela Merced of IPI Pharmaceuticals, the company that owns the Omega Gym, the home base of the new champ. GAB Cebu supervisor Rolando Mendoza attended the event and he read a letter from GAB Commissioner Mohamad Aquil Tamano addressed to the President of the Argentina Boxing Commision, Osvaldo Rafael Bisbal stating that the GAB is requesting for an investigation regarding the riot; the people responsible and the lapses in security.