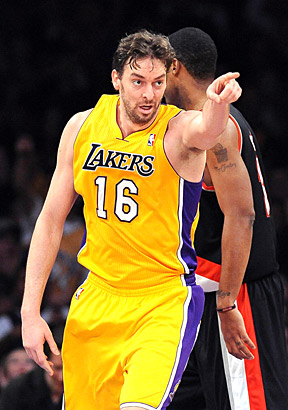 source: Dave McMenamin | ESPNLosAngeles.com
LOS ANGELES
-- Los Angeles Lakers guard Kobe Bryant called out team management Sunday, stating a decision needed to be made regarding the future of forward Pau Gasol. The Lakers responded in turn Monday, just not in the manner Bryant wanted.
The Lakers released a statement by general manager Mitch Kupchak prior to the Lakers' game against the Portland Trail Blazers.
"As general manager of the Lakers, I have a responsibility to ownership, our fans and the players on this team to actively pursue opportunities to improve the team for this season and seasons to come," Kupchak said in the statement. "To say publicly that we would not do this would serve no purpose and put us at a competitive disadvantage. Taking such a course of action at this time would be a disservice to ownership, the team and our many fans."
Bryant came to Gasol's defense following the Lakers' 102-90 road loss to the Phoenix Suns on Sunday, saying the four-time All-Star could not be expected to be fully invested in the season with all the trade speculation attached to his name.
"It's just tough for a player to give his all when you don't know if you're going to be here tomorrow," Bryant said. "I'd rather them not trade him at all. If they're going to do something, I wish they would just [expletive] do it. If they're not going to do it, come out and say you're not going to do it."
Gasol wasn't totally surprised Bryant spoke out.
"He told me a little bit. I didn't know he was going to do it at that particular point and to the media," Gasol said after scoring 16 points and grabbing 12 rebounds as the Lakers beat the Blazers 103-92 on Monday night. "But he told me that it had to be tough to deal with it. I think it's more so the rest of the guys, too. You keep hearing stuff, and we don't want any distractions. We don't need any distractions. We just try to do the best we can, but he did talk to me a little bit about it beforehand."
Kupchak did express empathy with Gasol's situation, despite not taking any clear stance on Gasol's security in L.A. or even addressing Gasol by name.
"As a former player, I understand how the days leading up to the trade deadline can be nerve-wracking for an NBA player," Kupchak said in the statement.
The NBA trade deadline is March 15, about three weeks away.
"It's important to know that guys in the locker room are going to support you and guys are going to step up. That's my role here," Kobe said after Monday's game. "[Gasol] can't say that. You guys know Pau. He's a nice guy. He would never, ever say anything to kind of shuffle the deck, so to speak. But I will, and I'll say it for him."
Said Gasol: "I'm glad he showed his support for me, to be sure. We just need to make sure we're together on this, and we need everybody to be on the same page. We'd all like the peace of mind that we're not going to be moved, but we can't guarantee that."
Lakers coach Mike Brown said he was not going to get involved.
"I don't plan on going to talk to [Bryant], and I have not gone and talked to him ... I just coach the team," Brown said before the Blazers game. "There's nothing more for me to do. I think that discussion is done between Mitch and Kobe. ...
"It's not for me to touch. You know what, if I was a coach or GM, yes, it would be for me to touch. But this is not for me to touch."
Brown also was not planning to address the situation with Gasol, who entered Monday averaging a career-low 16.6 points per game this season on 49.6 percent shooting after averaging 18.8 points on 52.9 percent shooting a year ago, and said he doesn't believe the comments made by Bryant or the uncertainty surrounding Gasol will be a distraction to the team.
"It's something that people go through all the time in this business, whether you're talking about trades or somebody getting fired or somebody retiring or whatever," Brown said. "There's a lot of speculation that goes on in this business, because it's a high-profile business. So, you expect it, but it can affect an individual."
Brown admitted Gasol isn't immune to the trade speculation. "To a certain degree I think it bothers him, but I have not sat down and asked him if it bothers him or not," Brown said.
But the coach also said that however bothered Gasol might be hasn't resulted in a drop-off in performance. "In my opinion, is it impacting his play? I don't think so," Brown said. "I don't think it is. Now, just because I don't think it is, it doesn't mean that it's not."
Brown added: "I don't see him walking around moping or anything like that."
Brown said Gasol's decrease in offensive output could be attributed to Andrew Bynum's improvement. Bynum entered Monday averaging 16.3 points per game this season, up from 11.3 points per game last season.
"I know one thing, there's a [surge] from Andrew Bynum that wasn't there in the past, so Pau does not get the same amount of touches on the post that he has in the past because Andrew takes some of those away," Brown said.
Metta World Peace also defended Gasol's play.
"Pau's playing good team basketball," World Peace said. "He's playing well. He's not getting a lot of touches like he did in the past because that's because Drew's gotten better. ... I think Pau is doing well. I see through all those stats. He's doing well."
Even with this round of public sparring, the Lakers have won eight of 12 since late January.
Although Bryant might be bothered by the Lakers' machinations, he was angry in previous years when the Lakers didn't make trades to improve the club, even demanding a trade himself in 2007. A few months later, the Lakers acquired Gasol and immediately made a run to three straight NBA Finals and back-to-back league titles.
World Peace is no stranger to displeasure about trade rumors. Back when he was Ron Artest, he sparred with the Indiana Pacers' management over rumors about his eventual departure to Sacramento.
"You can't really question [Kupchak] because he's looking out for the Lakers and he does a great job," World Peace said. "That's his job, and we're supposed to go play."
Dave McMenamin covers the Lakers for ESPNLosAngeles.com. Information from ESPNLosAngeles.com's Brian Kamenetzky and The Associated Press was used in this report.