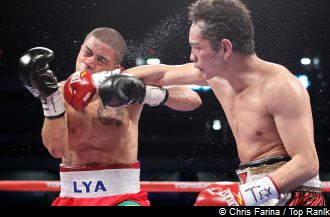 source: Ronnie Nathanielsz | PhilBoxing.com
SAN ANTONIO, TEXAS
-- Nonito "The Filipino Flash" Donaire won his fourth world title despite suffering a suspected broken left hand early in the fight, beating former champion Wilfredo Vazquez Jr before a crowd of 14,120 fight predominantly Hispanic fans at the Alamodome in San Antonio, Texas Saturday.
The twelve round split decision made no sense at all as two judges, Levi Martinez and Don Trella had Donaire a comfortable winner 117-110 but judge Ruben Garcia saw Vazquez ahead 115-112 to the consternation of Donaire's manager Cameron Dunkin who said such judges hurt the image of boxing. Even the renewed TV commentator Col. Bob Sheridan had Donaire winning by an identical 117-110 margin which tallied with the unofficial scorecard of the Standard.
Donaire had previously won the IBF/IBO flyweight title with a 5th round demolition of Vic Darchinyan, grabbed the WBA super flyweight interim title by beating an overweight Rafael Concepcion before sealing the deal with an 8th round TKO over Hernan "Tyson" Marquez and then scored a spectacular 2nd round annihilation of fancied Mexican veteran Fernand "Cochulito"Montiel last February 19.
Donaire moved up to super bantamweight and showed he could handle the power of the 122 pound Vazquez while at the same time carrying the power he showed in two "Knockouts of the Year" against Drachinyan and Montiel by dropping the bigger Vazquez in the 9th round with a cracking left uppercut followed by another devastating left hook.
Both fighters started off cautiously before Donaire connected with a solid uppercut to take the opening round.and then caught the Puerto Rican with solid left hooks in round two to get off to a great start in a fight where Vazquez failed to live up to his promise to go after Nonito and hurt him.
In round three Donaire caught Vazquez with a big left uppercut and had Vazquez against the ropes before the Puerto Rican fought back to take the fifth and sixth rounds with some solid right hands behind his jab which appeared to be finding the mark
Donaire came charging back in round seven and stunned Vazquez in the final minute of the round with a left-right combination before connecting with a vicious body shot in the middle of the eighth round that saw Vazquez wince.
In round ten Donaire used side to side movement to befuddle Vazquez before the former world champion who won the title with a 4th round knockout of former world super flyweight champion "Marvelous" Marvin Sonsona trapped Donaire against the ropes where the two engaged in a furious exchange.
"The Filipino Flash" was the victim of an accidental head-butt in the eleventh round before he put an exclamation mark to his performance with a big flurry of punches in the dying seconds of the fight.
After the decision was announced Vazquez went over to Donaire's corner and both fighters embraced and sought to explain and apologize for what happened during their heated confrontation at the pre-fight presscon and the exchange of nasty tweets between the wives of both fighters which was triggered by Vazquez' wife.
In a post fight interview with the Manila Standard and Dyan Castillejo of ABS-CBN which telecast the fight on its ore-eminent Channel 2, Donaire said he hurt his hand between the second and fourth round and "It really hurt."
He said "there was nothing I could do and punched with the inside of my left hand and sideways because I had to do it no matter how painful it was. I knew this is my job, this is what I had to do even as I was surprised with the split decision."
Donaire said he was "surprised because I thought he was strong but he was not. I sometimes even played around with him because he was not strong."
He explained what appeared to be showboating as dancing around because his hand hurt so bad.
Donaire said moving up to super bantamweight was "a big challenge." He said he would "now go back to training so I'll be even better."
He said he "couldn't do everything Robert (Gracia) asked me to do because of the pain in my hand."
Robert Garcia, the former world champion who trains Donaire classified Donaire's showing as "a good performance. His hand is really bad but he did what he had to do to win. I think he (Vazquez) won a few rounds but I did't see it as being a split decision."
Donaire didn't ank to talk about what's next for him because "I first have to get my hand to heal."
Dunkin told us later that doctors had examined Donaire's left hand and initially felt it may be broken in two places but that he would have him undergo a thorough check-up tomorrow to find out the extent of the injury and what needs to be done.
The unofficial COMPUBOX stats showed Donaire connecting with 42 percent of the total punches thrown to Vazquez' 30 percent while Donaire threw 245 power punches and connected with 147 for 60 percent compared to Vazquez who threw 163, connected with 56 for 34 percent.