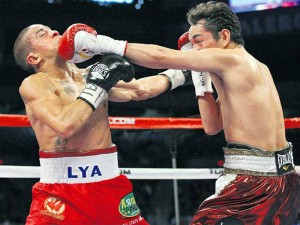 source: Agence France-Presse, Associated Press
Nonito Donaire Jr. knocked down Wilfredo Vazquez Jr. in the ninth round to highlight his domination of the former Puerto Rican champion but had to settle for a split decision in grabbing the vacant WBO super bantamweight crown—his fourth division title—on Saturday (Sunday morning in Manila) at Alamodome in San Antonio, Texas.
Debuting in the 122-pound division, the 29-year-old Donaire staggered Vazquez with a left uppercut and dropped him with a left overhand late in the ninth. The Puerto Rican rose quickly, smiling as the referee gave him a standing eight-count.
Despite the impressive show that had judges Levi Martinez and Don Trella both scoring it 117-110 for Donaire, the third judge, Ruben Garcia, saw it 115-112 for the 27-year-old son of three-division champion Wilfredo Sr.
Donaire, the former flyweight, junior flyweight and bantamweight champion, improved to 28-1.
Promoter Bob Arum is now lining him up against the big stars in the division, including Mexican Jorge Arce, who dethroned Vazquez last year before sliding down to capture the WBO bantamweight title as well.
Also being eyed by Arum are Japanese WBC champion Toshiaki Nishioka and Cuban WBA titlist Guillermo Rigondeax.
A few hours after the bout, Donaire, popularly known as "The Filipino Flash," was on Twitter, saying: "I want to thank the fans for all the support. I was really looking for a knockout because he disrespected my country."
Bad blood
The bad blood between the two boxers was provoked by a message posted by Vazquez's wife on the social network site before the fight, saying Donaire was a coward and referring to his country as "stupid" Philippines.
Donaire, who finished the bout with a welt under his right eye, also showed on his Facebook account a bloodied left hand, which, he said, was skinned and had sustained a minor fracture.
The Filipino controlled the bout despite breaking his left hand somewhere between the second and fourth rounds. After capturing world titles in three lower divisions, he proved just as powerful in moving up to junior featherweight.
He stunned Vazquez in the third with a left-handed uppercut to the right temple.
Rapid-fire punches
Although he failed to score a knockout as promised, Donaire fought well enough to impress the crowd of 14,000. Vazquez concentrated on defense, hiding his face behind both gloves.
Donaire tried to lure the Puerto Rican into a brawl by dropping his hands before launching rapid-fire combinations but failed to break through his opponent's defense.
The California-based Donaire finally slipped a left upper cut and followed it up with another left hook to send Vazquez down on his butt in the ninth round.
But Vazquez quickly got back on his feet and wiped the sting off with a smirk.
The knockdown came after Vazquez emerged slightly ahead following bruising exchanges in the sixth and seventh rounds.
The Puerto Rican also took the 12th round as he tried to nail Donaire with a knockout blow—the one thing he needed to turn things around.
Vasquez saw his record drop to 21-2-1.
Chavez over Rubio
In the night's other big fight, unbeaten Julio Cesar Chavez Jr. retained his World Boxing Council middleweight title with a 12-round unanimous decision over Marco Antonio Rubio.
Chavez, son of Mexican boxing legend Julio Cesar Chavez—who watched throughout from ringside—overcame his difficulties making the middleweight limit to claim the victory by scores of 118-110, 116-112 and 115-113.
Chavez admitted that his trouble making weight took a toll. But he successfully fended off the determined challenge of Rubio, who just didn't have enough power to really hurt the champion despite his willingness to go toe-to-toe with him.
Rubio, also a Mexican, signaled his intentions with a straight right late in the first round and he rattled Chavez late in the fourth with a combination.
Too much power
But even though Chavez was tiring in the latter stages he had too much power for the smaller challenger.
"I had a little problem with the weight. After the seventh and eighth rounds, my legs, I started to feel them," he said. "I was paying the price. Fortunately, he doesn't hit that hard.''
"I don't want to battle again with the weight like I did," added Chavez, who was making the second defense of the title he won with a 12-round decision over Germany's Sebastian Zbik last June.
Chavez followed that with a fifth-round stoppage of Peter Manfredo in November and is now unbeaten in 46 fights, with one drawn and 31 knockouts. Rubio fell to 53-6-1.
After the bout, Chavez said he still had no interest in moving up in weight and that he was eager to take on the best of the middleweight ranks—Argentina's Sergio Martinez, Mexican Antonio Margarito or Puerto Rico's Miguel Cotto. With reports from Marc Anthony Reyes and AFP