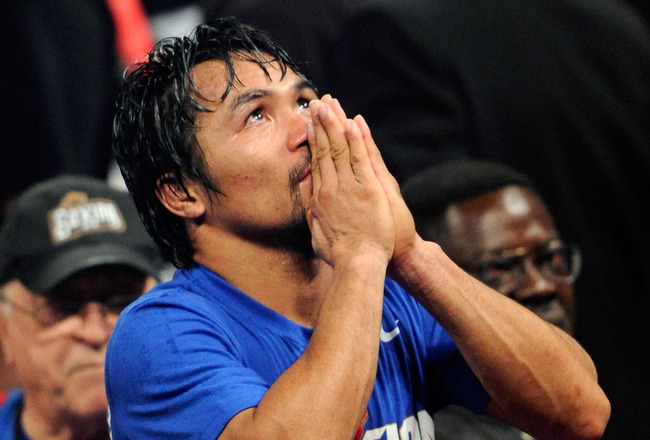 source: Sun.Star Manila
MANILA
– Eight-division champion Manny Pacquiao celebrated his 16th year as a prizefighter in 2011 with victories over different opponents.
As his projected multi-million dollar mega-showdown with undefeated American Floyd Mayweather remained hanging in the air, Pacquiao, who turned 33 last December 11, had to settle for three-division champion Sugar Shane Mosley and Mexican legend Juan Manuel Marquez in a pair of bouts both held at the MGM Grand in the gambling city of Las Vegas.
The twin confrontations were the 58th and 59th for Pacquiao since he started his professional career on January 22, 1995 with a four-round unanimous decision victory over Enting Ignacio in Mindoro Occidental.
The fighting congressman from Sarangani marched triumphantly over Mosley via a unanimous decision last May but was forced to the limit by Marquez by a majority verdict last November that left even his rabid fans unhappy.
Up to this day, many still believed the fight could have been a draw or Marquez, the world lightweight titleholder, should have dethroned Pacquiao as the World Boxing Organization welterweight kingpin.
The double kill raised the Filipino icon's win-loss-draw record to 54-3-2 with 38 knockouts. Two of his three losses came via knockouts – against Rustico Torrecampo, a year after he debuted as a pro in 1996, and against Thai Medgoen Singsurat, who took his World Boxing Council flyweight crown in 1999.
His only other defeat came in hands of Mexican Erik Morales in 2005. Pacquiao more than made up for this by stopping his tormentor twice the next two times they squared off in 2006. That 2005 drawback to Morales was his last as he followed that up with 15 straight victories, including eight KOs on the way to becoming the only man on earth to hold eight belts in as many weight divisions.
Victories over Mosley and Marquez earned for Pacquiao millions of dollars, making him the highest paid athlete in 2011, a distinction he shared with Major League Baseball campaigner Alex Rodriguez of the New York Yankees a year before.
The fight with Mosley generated 1.34 million pay-per-view buys. A slight increase to 1.4 in his third encounter with Marquez marked the fourth straight year that a Pacquiao fight pulled at least a million pay per view hits since 2008 when he stopped Oscar de la Hoya to register 1.25 million cable buys.
It was the first year that Pacquiao batted 100 percent in accounting at least a million pay-per-view hits in his outings.
Besides extending his hold of the 147-pound belt, Pacquiao, likewise, kept his number one spot in the Ring Magazine's best pound-for-pound fighters list despite howl of protests from some sectors, including that of Mayweather.
Mayweather toppled him though from that position in several honor-bestowing bodies on the strength of his unimpressive showing against Marquez.
Such unimpressive performance, in fact, led the ever boastful 42-fight winner Mayweather to announce he's willing to fight Pacquiao, whom he had been continuously ducking for three years.
At a time though when it looked clear that the super-fight, which the whole of boxing world craves would finally be realized, came a court's decision jailing the unbeaten American for no more than 90 days for assaulting his ex-girlfriend in front of their children.
The verdict, handed down by Las Vegas Justice of the Peace Melissa Saragosa further sent into thin air what has been perceived as boxing's 'fight of the century,' that had been aborted twice already due to misunderstanding on several issues submitted by both camps.
Judge Saragosa's verdict, which takes effect January 6 will have the American boxer behind bars until April 2, which can delay the realization of the fight the entire boxing universe has been wanting.
And with Mayweather in a temporarily hiatus, the Filipino ring sensation might instead opt to face Marquez for the fourth time or Tim Bradley or one or more challengers in May, a date Mayweather himself, incidentally reserved.
Pacquiao completely dominated Mosley, scoring a knockdown in the third round, leading all judges to hand down a unanimous decision verdict, despite referee Kenny Bayless mistakenly ruling a knockdown in the 10th when the Filipino clearly slipped.
Two of the judges, Dave Moretti and Duane Ford, ignored Bayless' ruling and scored shutouts for Pacquiao while a third, Glenn Trowbridge, gave Mosley a single round.
For Pacquiao's failure to stop both Mosley and Marquez, many fans and even media expressed disappointment with the results, especially against the Mexican who pushed to the limit.
The fight, which was supposed to end a trilogy and decide the 'unfinished business' between the two best fighters in the world today, ended with no one proving who between them is the best, thus pushing promoter Bob Arum of Top Rank to suggest a fourth meeting that could be calendared in May with the much-awaited Pacquiao-Mayweather confrontation held later in the year or in 2013. (PNA/Sunnex)