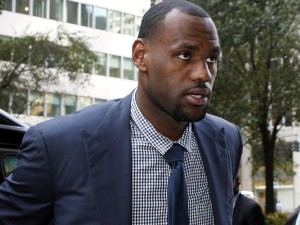 source: Agence France-Presse
MIAMI
—NBA superstar LeBron James is engaged to marry long-time girlfriend Savannah Brinson, who accepted his proposal at a lavish New Year's Eve dinner party in Miami, People magazine reported on Sunday.
Brinson was the high school sweetheart of the Miami Heat playmaker and is the mother of James' two sons, seven-year-old LeBron Jr. and four-year-old Bryce.
The bash was also a birthday party for James, who turned 27 on Friday.
"Happy for my brother KingJames and sis SavannahRB on their engagement!!! Extremely happy for them and the good times to come," Los Angeles Clippers guard Chris Paul posted on his Twitter account.
Heat owner Micky Arison tweeted: "Congrats to Lebron. KingJames and Savannah so happy 4 u guys."
No wedding date was immediately set.
The party was hosted by Dwyane Wade, James' Heat teammate and the guest list also featured Heat star Chris Bosh and actress Queen Latifah, according to People.