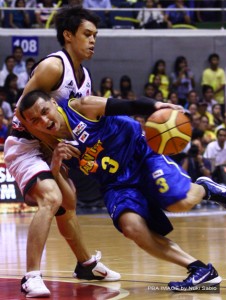 source: Cedelf P. Tupas | Philippine Daily Inquirer
MANILA, Philippines
– As resilient and as tough as his team is, Talk 'N Text coach Chot Reyes still thinks the extended break should come in handy for the Tropang Texters as they gear up for the harder grind in the PBA Philippine Cup.
Saddled by injuries to key players, the defending champion Tropang Texters mustered enough strength to clinch a twice-to-beat edge in the playoffs then took just one game to dispose of Barako Bull in the quarterfinals last Dec. 14.
"It was important for us to win because we needed the long rest," said Reyes.
"It was the driving motivation for us to get that long rest. Fortunately, we got it."
The lengthy holiday should give walking wounded Texters Jimmy Alapag, Jason Castro, Jarred Dillinger and Ryan Reyes, together with big men Ranidel de Ocampo, Aaron Aban and Ali Peek more time to recover from injuries—which has been an issue since Talk 'N Text played the most games in the league last season.
Injuries and all, Castro has emerged as one of the finest guards in the league and his clutch performance against Barako Bull further boosted his stock. Castro hit a layup in the waning seconds to lift Talk 'N Text to an 81-79 win.
The Tropang Texters returned to practice yesterday, hoping to reach sharp form by Jan. 5 at the Cuneta Astrodome when they start their
series with fierce rival Petron Blaze in the best-of-seven semifinals.
Talk 'N Text is aiming to become the first team in the last 26 years to win back-to-back All-Filipino titles.
"Our injured players are undergoing aggressive treatment," Reyes disclosed. "At the same time, we're balancing rest and recovery with practice and keeping in shape through this break."
Talk 'N Text downed Petron twice in the elimination round. But the Tropang Texters know only too well how quickly things turn around in a best-of-seven series especially if injuries get in the way.
The Tropang Texters also came into the Governors' Cup finals last season as the favored team, but the Boosters nipped them in seven games, ending their hopes of a grand slam.
"We're hoping everyone's ready by January 5," said the fiery Reyes.