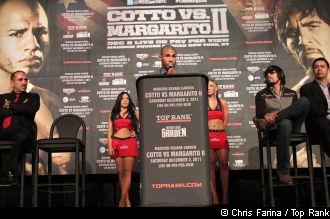 source: Ronnie Nathanielsz | PhilBoxing.com
Fight fans couldn't ask for more as the two biggest competitors in sports on television provide a nationwide audience two of the most eagerly awaited ring battles of the past year, excluding of course Manny Pacquiao's third encounter with Juan Manuel Marquez and Nonito "The Filipino Flash" Donaire's classic 3rd round stoppage of Fernando Montiel and his lopsided twelve round decision over two-division champion Andres Narvaez.
AKTV IBC 13, the free-to-air television station operated for several hours daily by ABC 5 will telecast the grudge rematch between IBF bantamweight champion Abner Mares and former two-time champion Joseph Agbeko at 12 noon on Sunday.
The grudge rematch will be free of the incompetent refereeing of Russel Mora who allowed Mares to get away with several low blows, even ruling a knockdown against Agbeko on a clear low blow in the 11th round. The IBF, to its credit, promptly ordered a rematch and canned Mora at least for the time being. Agbeko told a pre-fight news conference " I deserved a rematch and I'm glad they gave me one right away."
He said "I didn't retaliate against him because I had to be professional and I have to obey the rules of the sport." At the same time Agbeko made it clear that the rematch will be different, pointing out "Boxing is always different. What happens in one fight doesn't always happen again. I'm going in as warrior and I'm ready for war."My job is to go in and fight and come out as the winning fighter. I want to get the belt back. Mares said he wants a knockout. If he said he wants a knockout, then I'm going to knock him out."
Mares for his part said "When two warriors face each other all you can expect is a good fight.I want to go in there and make a statement in the first two rounds. He's a good fighter and he never gave up in the last fight, so I think the first few rounds will be key. "I just want to go in there and capitalize and move on. He's a great champion and it should be a great fight. I need to fight smart, box and move onto other fighters."
Mares who is handled by Golden Boy Promotions credited Agbeko for being " a well-schooled fighter and he maintained and got back in the fight like a world champion will, but I'm ready to show a different Abner in this fight. If you don't risk, you're not going to win."
In the WBA super welterweight champion Miguel Cotto and three-time world welterweight champion Antonio Margarito have exchanged genuinely nasty comments leading up to their war which will be telecast by the giant broadcast network ABS-CBN over Studio 23 at 7:00 p.m. on Sunday. The fight takes place at The Theater in Madison Square Gardens before an expected sell-out crowd.
The bitter rivalry between fighters and fight fans from Puerto Rico and Mexico is bound to surface between Cotto who is the pride of Puerto Rico and Margarito who is regarded, at least by Top Rank promoter Bob Arum as a fighter who has been misunderstood and sometimes badly treated.
Meantime, chances of pandemonium breaking out even before the fight appear real as Top Rank Promotions has decided to open the official weigh-in to the public.
Margarito battered Cotto in their first meeting to win by an 11th round TKO when referee Kenny Bayless stopped the fight with Cotto in no position to continue.Interestingly both Cotto and Margarito have been pulverized by Ring Magazine's pound for pound king Manny Pacquiao with Cotto losing by a 12th round TKO and Margarito almost blinded in a one-sided twelve round beating.