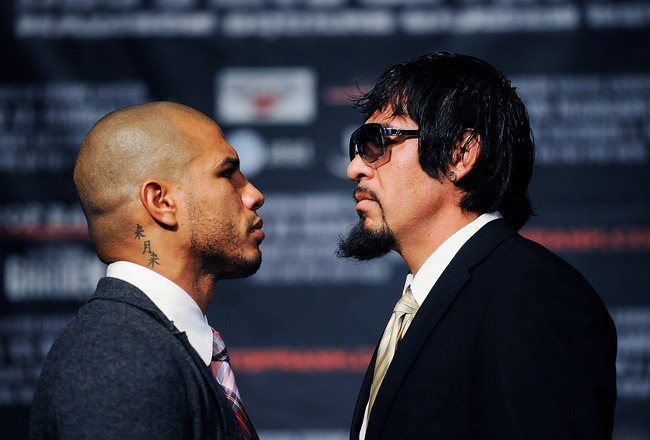 source: John McCormick | BoxingTalk.com
Next Saturday night we will be given the privilege of seeing Miguel Cotto (36-2 with 29 KOs] defend his WBA 154-pound super championship against Antonio Margarito (38-7 with 27 KOs) in their highly anticipated rematch. To say that this is a grudge match would be and understatement. The hatred for each other that is seen on HBO's Face Off isn't a tactic used to promote excitement for the fight, the hatred that these men have for each other is authentic. The hype, the story sorrounding the fight, the history between the two fighters, Margarito's licensing issues, aand the rest of the suspenseful build up to the fight could easily be mistaken for a Hollywood bound movie script. In this plot, Miguel Cotto is the hero; and Margarito is the antagonist. With an HBO PPV price tag of $59.99, most fans are wondering: "Will this fight live up to all the hype?".
Yes it will, no doubt in my mind.
Nobody can blame the skepticism of the fans, as they seem to be a part of an era where they are being fed $59.99 PPV fights that don't belong on PPV in the first place. Hopkins-Dawson, Cotto-Mayorga, Morales-Maidana, Hopkins-Jones II, Jones-Trinidad, and Pavlik-Taylor II are a few PPV cards from the past few years that immediately come to mind. Our economy is in a horrible state, and many fans are unwilling to shell out $60 to see a fight that they are not interested in. The premature, unsatisfying endings in the Hopkins- Dawson and Mayweather-Ortiz fights haven't helped along the way either.
In 2009, HBO had the right idea. Their first PPV of the year was Hatton-Pacquiao and that was well into the calendar year. Fights like Mosley-Margarito, and Marquez-Diaz, were on HBO's World Championship Boxing for free. That approach has since then slipped away, and true boxing fans are forced to dig deep in their pockets on a regular basis. Nevertheless, Cotto-Margarito I was well worth the price tag, as it's successor should be as well.
The undercard is filled with wars such as the rematch between Pawel Wolak [29-1-1 with 19KOs] and Delvin Rodriguez [24-5-3 with 14KOs] ; and bouts featuring up and coming, amazing talent such as Mike Jones [25-0 with 19 KOs] taking on Sebastian Lujan [38-5-2 24 KOs] ; and Brandon Rios [28-0-1 with 21 KOs] defending his WBA lightweight title against John Murray [31-1 with 18KOs].
The history leading up to the main event has to be one of the most compelling back stories of a major fight that the sport has ever seen. Miguel Cotto is looking revenge his first loss, and put an end to the memories of July 26, 2008 that have haunted him for the last three years. Margarito is looking to show the world that it was his stamina, skill, determination, and pressure that helped him defeat Cotto, not the plaster. My point being that the fight inside the ring will be just exciting, if not more exciting than the promotional hype leading up to the fight.
Boxing fans, and the rest of the world shouldn't think twice about tuning in next Saturday, as this isn't a Hopkins-Dawson type of fight. Many say "there are only two things certain in life: death and taxes." In this fight two things that are certain: drama and violence. The illusion of uncertainty, and of expecting the unexpected that the Promoters normally feed you before a PPV fight is in fact a reality next Saturday night.