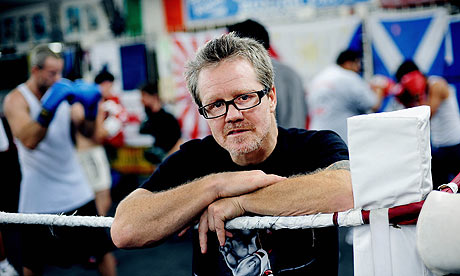 source: Joaquin Henson | The Philippine Star
LONDON
– Legendary boxing trainer Freddie Roach is making big news here even as he is far away in Baguio City attending to Manny Pacquiao in preparing for the Juan Manuel Marquez fight set in Las Vegas on Nov. 12.
In the weekly British magazine Boxing News, Roach said Floyd Mayweather looked "terrible" in knocking out Victor Ortiz to wrest the WBC welterweight title last Sept. 17. When both Ortiz and referee Joe Cortez weren't looking, Mayweather landed two undefended punches to end the bout in the fourth round. Roach called it "a cheap shot."
"Victor was landing a few left hands and that was a good sign for me if Manny fights Floyd," said Roach. "But obviously, Mayweather's right hand was accurate and dangerous and that's something we would have to deal with as a southpaw. Floyd's given me a good idea of how his mind works fighting a southpaw. A lot of people think the best punch against a southpaw is the lead right hand and that's definitely Mayweather's tactic and something we'd have to get ready for or something I hope we have to get ready for."
Roach said he's confident Pacquiao and his other high-profile champion Amir Khan will beat Mayweather if ever they face off. Khan is slated to stake his WBC lightwelterweight crown against Lamont Peterson on Dec. 10 and could be next in line for Mayweather.
"I know there has been a lot of talk about another of my fighters, Amir, fighting Mayweather, too," continued Roach. "We've got Peterson first and funnily enough, I was just in the Olympic training camp with him. It was kind of a mistake but we did a rotation workout and Peterson ended up in my rotation and after two rounds, his trainer found out and pulled him out. He has a good style and is very physical so we have a tough fight ahead of us. But after Peterson, we will go after Mayweather. I love that fight, I was hoping Manny would get there first but I know both my fighters can beat him so I have no worries."
Roach said Mayweather showed signs of slowing down against Ortiz. "I think Victor had the right idea – to rough him up," he went on. "That's why I think he butted him, he was just way too apologetic. I think he should have got on with the fight and maybe, headbutted him again because that's the way to beat Mayweather, to take him out of his game. He frustrated him with that headbutt, you could see him complaining and crying but you can't be compassionate. This is a physical game. Ortiz got caught up in it and it cost him."
Roach noted that Mayweather, 34, isn't as quick and fights more flat-footed than ever before. "He doesn't move around the ring like he used to, you can see that," pointed out Roach. "There are definitely signs in the last three fights, that he's not as mobile as he used to be. He's more hittable but what the Ortiz fight showed me was, because Manny's a nice guy also, that you can't be nice to this son of a ***** because he will take advantage and land a cheap shot if you let him."
In Pacquiao's last two fights, he eased up on Antonio Margarito and Sugar Shane Mosley, allowing them to survive the distance. He could've stopped both opponents but mercifully let them off the hook. Roach said Pacquiao can't afford to be sympathetic to either Marquez or Mayweather.
"Manny kept touching gloves with Mosley and I told him, 'You're touching gloves with this old man and he's trying to knock you out,'" said Roach. "One punch can change things so I was trying to urge Manny not to be so compassionate with Mosley or Margarito. I think he should have knocked both guys out."
Meanwhile, Boxing News editor Tris Dixon has called on Mayweather to prove himself in the ring against formidable opponents and stop playing footsies with pretenders. Dixon chided Mayweather for dissing 80-year-old boxing announcer Larry Merchant instead of engaging the likes of Margarito, Miguel Cotto, Paul Williams, Sergio Martinez and of course, Pacquiao.
"(Mayweather) may not like to admit it but there is one man out there who can test him, maybe even defeat him and that is Pacquiao," wrote Dixon. "Yet he keeps putting up roadblocks to make other fighter's lives difficult and his easier. He tells Pacquiao to take a certain drug test. He tells Amir he has to beat his gymmate Jessie Vargas before he can take him on. He lines their paths with obstacles and asks them to 'take the test.' It's about time Floyd tested himself. Take the test, Floyd. Fight Manny Pacquiao."