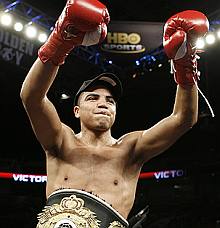 source: Ed de la Vega | PhilBoxing.com
Floyd Mayweather Jr is always right. At least that's what he thinks.
Recent reports indicate that he is predicting a knockout on Saturday.
I tend to agree with him.
However, there is a slight difference. Mayweather thinks he will knock Victor Ortiz out. I say it's the other way around. If indeed there is a knockout, the self-proclaimed "Money Man" will be the one flat on his back staring at the lights with the doctors hovering over him with great concern.
First and foremost Ortiz is ten years younger. I dare say he has more power than Mayweather. Human physiology favors him over the older Mayweather. On top of that, Ortiz has been very busy the last few years. Mayweather on the other hand sat on his butt spending his money and/ or getting in trouble with the law instead of making efforts to make the Pacquiao fight a reality. Read: ring rust. I know people will say "it ain't so" but against Ortiz who can move and has power, it will finally show.
Mayweather is not fighting a bloated Juan Manuel Marquez or the washed–up Mosley. He is fighting a young champion who earned his title the hard way. So if he does not come a hundred ten percent, he will be in for a rude awakening. "If he wants to win, he needs to come ready," Ortiz told this writer. "But it won't be easy. He will go through hell trying to do it," he added,
On Saturday, reality will finally come to light. Mayweather it was said, "plans to silence his critics by being the aggressor instead of the defensive genius."
That is well and good and I am sure it will suit very well the game plan of Ortiz. If he comes to Ortiz like he said he will, he will get hit just like Maidana and Berto and conceivably will stay down.
So I say, if there is a knockout it will be Mayweather ending on the short end of the stick.
Mayweather will not be able to knockout Ortiz. The kid from Oxnard is just too strong and resilient. Just like his other fights, I doubt Mayweather will really be the aggressor. "You can't teach old dogs new tricks," and Mayweather at 33 is not young anymore.
Most importantly, I do not see him changing his tactics which brought those 41 victories, albeit some against cherry-picked opponents. Regardless of what he says or what his Uncle Roger trained him to do, after the first solid Ortiz hit, he will automatically revert to his old style just like what he did on the Mosley fight.
So Saturday, be ready for 12 long boring rounds. That folks is simply the Mayweather formula to win a fight. Run, run, run. He had five 12 rounder's in the last six fights with one TKO (Hatton) didn't he?
If Mayweather's knockout prediction comes true, Ortiz will be the one left standing on his feet.