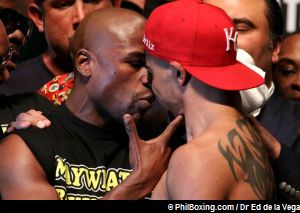 source: Ed de la Vega | PhilBoxing.com
Las Vegas, NV
-- Golden Boy Promotions held the official weigh-in for "Star Power - Ortiz vs. Mayweather" at the MGM Grand Arena leading to the big fight tomorrow between WBC Welterweight Champion Victor Ortiz (29-2-2, 22KO) and his challenger, the crude and brash Floyd Mayweather Jr (41-0-0, 25KO).
Mayweather could not keep still on the stage and kept pacing around, a sure sign of anxiety and nervousness. On the other hand, Ortiz came up the stage flashing his huge smile and appearing very confident of himself and pleased with the hoopla that surrounded the event.
Ortiz came in a sizzling 147 lbs., the exact limit of the fight contract. Mayweather tipped in at 146.5.
With both fighters coming in within the weight limits, there was sigh from some people in the crowd who feared that Mayweather may pull another "Marquez Trick" and come in grossly overweight to have a more solid advantage over the champion Ortiz. Thankfully, someone at Mayweather's camp did his job and kept their fighter within bounds of the fight contract.
During the traditional weigh-in pose for the media Mayweather showed his true character. He attempted to intimidate Ortiz by putting his face as close as possible to Ortiz.
Ortiz did not budge a bit.
Then Mayweather simulated a gun and stuck his right index finger on the neck of Ortiz as if to shoot him.
Obviously not satisfied with that, he grabbed Ortiz' neck and for a few moments attempted to struggle him but cooler heads separated them.
It was purely a lame show on the part of Mayweather. Foolhardy, to say the least.
Ortiz exhibiting magnificent self-control and tact, calmly laughed at the very crude antics of Floyd Mayweather Jr.
As a dig to the antics of Mayweather, he pretended he was scared and was crying as he calmly walked away and disappeared to the back stage.
Top photo: Mayweather (L) simulates a gun thru his fingers aiming at Ortiz's neck.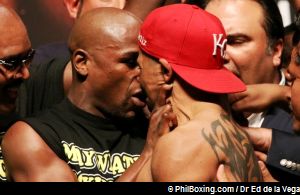 Mayweather tries to strangle Ortiz.