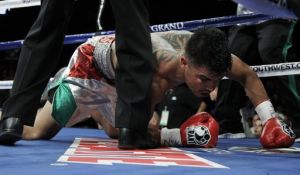 source: Jason Aniel | PhilBoxing.com
It's the 4th round. Mayweather hurts Ortiz early in the round. Ortiz makes a huge comeback, but intentionally headbutts Mayweather while on the ropes. Referee Joe Cortez immediately takes a point away from Ortiz, who hugs Mayweather during the break in action. Cortez resumes the action, Mayweather comes to hug Ortiz, who drops his hands, and Mayweather lands a left and a right that sent Ortiz down and out. That is likely the simplest way to explain one of the most bizarre endings to a major fight in recent history. As the days continue, more will be discussed about the ending to this fight.
However, before the ending of the fight, Floyd Mayweather and Victor Ortiz combined to give the sold out fans at the MGM Grand a tremendous action packed fight. From the first round, Mayweather planted his feet and was willing to exchange with the younger Champion. Ortiz seemed shocked at first and looked lost at times early in the bout. However, Ortiz proved his will and heart everytime it seem as if Mayweather was ready to put a major beatdown on Ortiz.
With the win, Mayweather remains undefeated at 42-0 (26 KOs) and reclaims his WBC Welterweight title. Ortiz falls to 29-3-2 (22 KOs), but based on the crowd response after the fight, Ortiz's stock as a star boxer as risen. The main event capped a tremendous night of boxing mixed with good fights, history, controversy, and of course the ending to the Mayweather-Ortiz bout.

Photo: Ortiz tries to get up after being knocked down by Floyd Mayweather Jr. during their WBC welterweight title fight Saturday, Sept. 17, 2011, in Las Vegas. (AP Photo/Julie Jacobson)