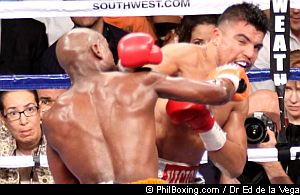 source: Ed de la Vega | PhilBoxing.com
Las Vegas, NV:
At the post fight conference held at the traditional media room of the MGM Grand, Mayweather was asked to comment on the two sneaky punches he threw that essentially won the fight for him.
His reply?
"What goes around, comes around."
That means, if Ortiz was dirty, so was he.
Mayweather knew what he did was dirty. He said, "it's a hurt business" and "he had to do what he needed to do." With that, he threw those two quick punches that took out Ortiz.
The sad part is young Ortiz recognized his mistake and apologized. But what was even more sad was Mayweather knew that what he did was wrong. But he knowingly and deliberately took advantage of the situation and threw those two fateful shots.
And, he never apologized for it. What a dirty scoundrel!
Classless? Of course. Treacherous? Yes indeed!
However, it was "within bounds of the rules."
"We touched gloves already, so I know the fight has resumed," Mayweather said at the press conference.
Mayweather was evasive when asked if he heard Cortez give the go ahead command to resume. He just decided on his own that it was time to resume the fight and hit Ortiz who was about to say sorry for the second time and had his guards down.
Mayweather also took Pacquiao verbally to the cleaners when he was asked about a possible fight with the Pacman. "He fought people who were my left-overs." He hinted he may not fight Pacquiao.
"I don't need to fight him," he said. "I can make money fighting others," he added. Besides he also mentioned that Pacquiao does not like to take the "tests" to "even the playing field" so the fight may not happen.
"Pacquiao is only famous because his name is attached to mine, Mayweather arrogantly told the press.
Mayweather's attack on Pacquiao who can not defend himself because he is home training, was received quietly by an indifferent press. I knew exactly what they were thinking, but they were smart enough not go down to the level of Mayweather.
Ortiz for his part took the loss in stride. "It's okay, I will be a champion again in six months," he said.
I for one certainly hope so and I hope he learned two valuable lessons tonight- not to employ dirty tactics and always keep his guards up to protect himself at all times.