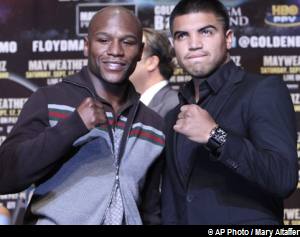 source: Ronnie Nathanielsz | PhilBoxing.com
Floyd Mayweather Jr's last two fights against an ageing Shane Mosley and a much lighter and smaller Juan Manuel Marquez went the distance. But this time around against a tough, young welterweight champion in "Vicious" Victor Ortiz who is ten years younger, the undefeated Mayweather plans to silence his critics by being the aggressor instead of the defensive genius and win by knockout.
Filipino fight fans both at home and abroad will have a chance to watch the fight of the one boxer they would like to see wage war with pound for pound king and "Fighter of the Decade" Manny Pacquiao.
AKTV IBC Chanel 13 will telecast the fight on a delayed basis at 7:00 p.m. while widely watched TFC, The Filipino Channel of ABS-CBN will telecast the fight "live" on a pay-per-view basis in the Middle East and Australia.
Most fight pundits believe that the best chance for Ortiz to win is to use his power to score a knockout realizing that Shane Mosley rocked Mayweather in the third round of their fight but failed to put him away.
Aware of Ortiz' plan, Mayweather has vowed to beat him to the punch. According to boxing writer Andreas Hale of FightNews.com, Mayweather promised this fight will not go 12 rounds and that he will score the knockout first by being uncharacteristically aggressive.
Hale noted that Ortiz "possesses dynamite in his right hook that could be a recipe for disaster for Mayweather. But "Money" has no concerns about Ortiz' punching power, because, after all, he's seen it all before. Citing the power of Mosley, Corrales, Corley and others, Mayweather feels that Ortiz doesn't have anything new that can surprise him."
Mayweather's game-plan is to see what Ortiz has in the early stages of the fight before taking it away and taking him out. Mayweather said "Whatever a guy has that is his strongest point about him we believe in taking that away. And then what we do is break the guy down. If we see an opportunity to go for the kill, that's what we'll do."
Its been some 16 months since Mayweather stepped into the ring against Mosley who was subsequently battered by Pacquiao last May and Filipino fight fans will have an opportunity to see whether Mayweather, after the long layoff can live up to his boast on Sunday morning Manila Time and win by knockout..